Carrot Cake Blondies
Looking for a sweet treat that is amazing? When you try these Carrot Cake Blondies that are part carrot cake, part cream cheese icing, part blondie, and part cheesecake, you are going to wonder how you lived without them. CourseDessert CuisineAmerican Keywordcarrot cake Prep Time20 minutes Cook Time35 minutes Total Time55 minutes Servings12Calories2106kcal
Ingredients
Carrot Cake Blondie Ingredients
1 stick unsalted butter – melted
1 cup light brown sugar
1 egg
1 tbsp vanilla extract
1 cup all purpose flour
1 tsp cinnamon
1/4 tsp baking powder
1/4 tsp salt
1 cup shredded carrots
Cheesecake Swirl Ingredients
4 oz cream cheese – room temperature
1/4 cup sugar
1 egg yolk
3/4 tsp vanilla extract
Instructions
Preheat oven to 350 degrees.
Prepare an 8×8 baking pan with non-stick spray and set aside. Line the pan with parchment paper for easy removal, optional.
Prepare the carrot cake batter:
Melt the butter in a microwave safe dish. In a medium sized bowl, add the melted butter and brown sugar and mix to combine. Stir in the egg and vanilla. Add in the flour, cinnamon, baking powder and salt and stir again until completely combined. Fold in the shredded carrots. Set aside.
Prepare the cheesecake swirl:
In a medium sized bowl, add in the cream cheese, sugar, egg yolk and vanilla and mix until smooth and creamy.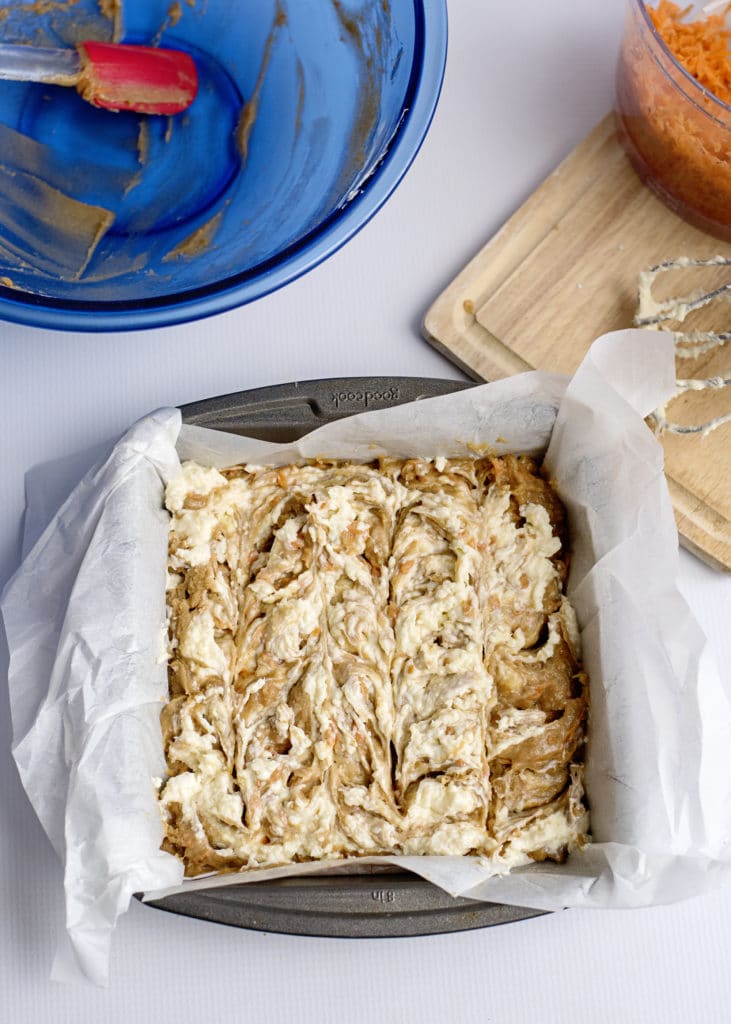 Layering the pan:
Pour about half of the carrot cake batter into the pan and spread it out with a spatula.
Then, take half of the cheesecake batter and drop spoonful's over the carrot cake batter. Don't swirl yet. Drop the remaining carrot cake batter by spoonfuls around the cheesecake batter and then finish with drops of the remaining cheesecake batter. Then, take a knife and swirl around until the two are swirled together.
Bake for about 35-40 minutes, the edges will be golden brown and there will be very little jiggle to the center. Cool completely before cutting. Store airtight in the refrigerator, they are delicious from the fridge!
Nutrition
Calories: 2106kcal | Carbohydrates: 383g | Protein: 29g | Fat: 50g | Saturated Fat: 25g | Cholesterol: 485mg | Sodium: 1172mg | Potassium: 1179mg | Fiber: 8g | Sugar: 275g | Vitamin A: 23405IU | Vitamin C: 7.6mg | Calcium: 483mg | Iron: 9.6mg
Click here to see the "Flavor-Pairing" trick that helped me melt away 22 pounds in just 16 days (proven for women only)